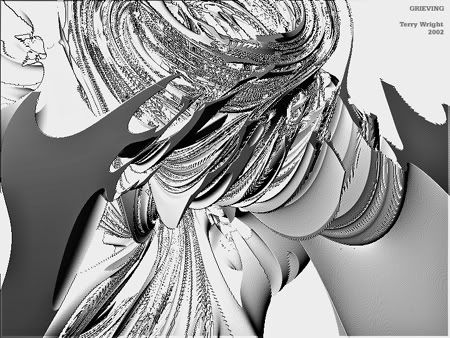 Grieving (2002)
From CNN:

With flowers, teddy bears and poignant memories, people touched by the worst act of domestic terrorism in U.S. history gathered Tuesday at the Oklahoma City National Memorial for the 10th anniversary of the deadly act. A moment of silence was planned for each of the 168 victims of the bombing that destroyed the Alfred P. Murrah Federal Building on April 19, 1995.


[...]

Juanita Espinosa, wiped away tears as she stood in front of the chair of her cousin, 2-year-old Zackary Chavez. "They found his head one week, and his body another week," she said. "It's still too much to think about."

[...]

Jon Hansen, an assistant fire chief at the time of the blast, was preparing for a meeting at a fire station five blocks west when the bomb went off. "It shook our building," he said. "We looked to the east and saw an enormous mushroom cloud. "We drove toward the building and I'll never forget how when we topped the hill with the sun low in the east, the street and sidewalks just glistened with broken glass."