Homage to Wallace Stevens (2000)
From "The Idea of Order at Key West" by Wallace Stevens:
She sang beyond the genius of the sea
The water never formed to mind or voice,
Like a body wholly body, fluttering
Its empty sleeves; and yet its mimic motion
Made constant cry, caused constantly a cry,
That was not ours although we understood,
Inhuman, of the veritable ocean.

The sea was not a mask. No more was she.
The song and water were not medleyed sound
Even if what she sang was what she heard,
Since what she sang was uttered word by word.
It may be that in all her phrases stirred
The grinding water and the gasping wind;
But it was she and not the sea we heard.
Stevens was born in Reading, Pennsylvania on October 2, 1879, and died at the age of seventy-six in Hartford, Connecticut on August 2, 1955. He attended Harvard as a special student from 1897 to 1900 but did not graduate; he graduated from New York law school in 1903 and was admitted to the New York bar in 1904, the year he met Elsie Kachel, a young woman from Reading, whom he married in 1909. They had one daughter, Holly Bight, born in 1924, conceived on a leisurely ocean voyage California via the Panama Canal that they took to celebrate the publication of his first book.




Stevens became interested in verse-writing at Harvard, submitting material to the Harvard Advocate, but he would be 36 before his first work was published in 1915. He soon was contributing to Poetry (Chicago), and his first book Harmonium was published in 1923 by the distinguished firm of Alfred A. Knopf. Though he was always much admired by his contemporaries ("There is a man whose work," Hart Crane wrote of him in 1919, "makes most the rest of us quail"), Stevens felt that the reviews of his 1923 book were less than they should be, and discouraged, wrote nothing through the 1920s. For a second edition of Harmonium, published in 1931, he added only eight new poems.




[...]




In 1939, Stevens was sixty -- an age when most poets are ready to look back on what career they might have made for themselves. But Stevens's best writing still lay before him in the form of extended meditative sequences, quasi-philosophical in their ruminative wanderings but marked always by a vivid sense of the absurd and a darting, whirling inventiveness that took delight in peculiar anecdotal examples...Stevens perfected what had been, in effect, the work he had been producing all along -- a metapoetry that took lavish delight in commenting upon its own making. At the same time, he began to grow interested in putting his thoughts on aesthetics together in prose sentences, essays he collected in 1951 as The Necessary Angel. And there was one final, magnificent turn to his development. Entering his seventies, he began to write a poetry of late old age, in which a sense of the disembodied, the purely mental, gave rise to a discourse that had grown newly austere, solemn, and strange even to its author.




Capturing so exuberantly yet so flawlessly the mind at play with an extravagance most often associated with youthful pleasure, with the sheer delights of the sensual body, Stevens preferred to mask his very great sensual satisfactions by suggesting that his doings were in fact all a highly proper set of speculations on "the imagination." (His prose essays were useful allies in this strategy.) But the sheer verve of local moments, the sumptuous texture of outstanding passages, simply dissolves as pretense the notion that a philosophical enterprise might be underway. Few poets have so fully enjoyed not just their indulgence in their own language but also the game that elaborately insists no such indulgence is occurring.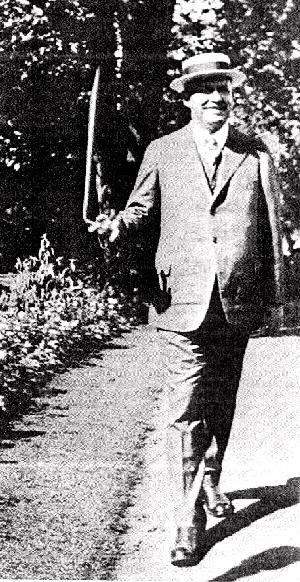 Wallace Stevens in 1931

More than any other modern poet, Stevens was concerned with the transformative power of the imagination. Composing poems on his way to and from the office and in the evenings, Stevens continued to spend his days behind a desk at the office, and led a quiet, uneventful life. Though now considered one of the major American poets of the century, he did not receive widespread recognition until the publication of his Collected Poems, just a year before his death.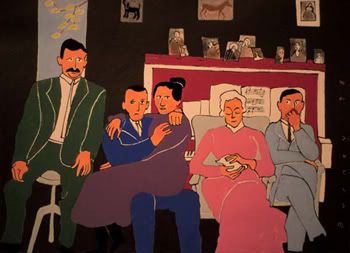 The Imperfect Is Our Paradise by William Burney

From "The Poems of Our Climate" by Wallace Stevens:
There would still remain the never-resting mind,
So that one would want to escape, come back
To what had been so long composed.
The imperfect is our paradise.
Note that, in this bitterness, delight,
Since the imperfect is so hot in us,
Lies in flawed words and stubborn sounds.
Wallace Stevens is the one poet I return to re-read more than any other. And, each time I check in with him, I am astonished.
Tomorrow, another writer drops by the blog.