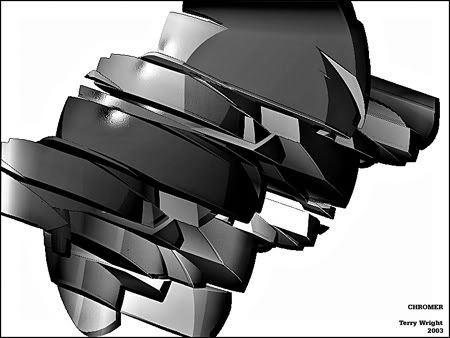 Chromer (2003)
From Cyberpunk Slang:
Chromer -- 21st century heavy metal rock fan.
Chromer: Slang for metalheads, heavy metal fans.
Chromer: 1) Metalheads, heavy metal fans. 2) A member of a gang dedicated to hard (chromatic) rock music (usually a specific band) and mindless violence. The original "party animals."
Chromer: A person whom has been heavily enhanced with cybernetics.
Chromer: Angling term for a bright fresh fish.
A chromer is also someone who reconstructs or refinishes chrome plating for motorcycles, as in:


A search on Google images for chromer turned up lots of fisherman holding fish, some tricked out bikes, a few athletic shoes...and this guy
I'm no squid. My board's my bike, fleshie. Slot this, chummer.

who serves as an icon for a member of the Harley Davidson Riders Club of Great Britain.
Tomorrow, another cyberpunk decides to grab gee and shortwire here at the blog.