Death of Chumley (2005)

Art brought Chumley to animated life, so why can't my art do him in?
From Tennessee Tuxedo and His Tales:
Tennessee Tuxedo was introduced on CBS-TV in response to the 1961 speech by FCC Chairman Newton R. Minow which addressed television as a "vast wasteland". Tennessee, voiced by comedian Don Adams (who portrayed Maxwell Smart on Get Smart , and later voiced Inspector Gadget ), educated as well as entertained youngsters. The series initially included repeat episodes of The Hunter and Tooter Turtle from King Leonardo. These segments were later replaced by newer components, including The World of Commander McBragg and Klondike Kat.

Tennessee, a wise-cracking penguin, and his dim-witted pal, Chumley (voiced by Bradley Bolke), resided in the Megalopolis Zoo. They were constantly scheming against zookeeper Stanley Livingston (voiced by Mort Marshall) and his assistant Flunky (voiced by Kenny Delmar), in an attempt to raise the quality of zoo-life. Their projects required the assistance of their educated friend, Phineas J. Whoopee (voiced by Larry Storch), and his 3-D BB (a three dimensional blackboard). The 3-D BB helped demonstrate basic scientific principles through the use of instructional film clips (a technique also used that year by Ken Snyder's syndicated Funny Company cartoons).
I remember watching this show as a kid, although I never thought of it as instructional in any way. In fact, thinking back now, it certainly did its part to reinforce stereotypes like a bumbling, theft-inclined French mouse (Savoir Faire) and a pair of buck-toothed, nonsense-spouting Indian gophers (Go-Go Gophers). Tennessee and his pals have been in the limelight again fairly recently because of religious wingnut fears over the sexual preferences of cartoon characters, although, apparently, both Tennessee and Chumley were investigated and exonerated. From Corey Anderson's sarcastic American Idle -- "FBI Files on Suspected Gay Cartoon Characters Uncovered":
While Tennessee and Chumley raised alarms initially due to the possibly-gay naked-except-for-neckwear dynamic they both shared, the FBI showed little concern as long as they were safely behind bars at the Megopolis Zoo, under the watchful eye of Stanley Livingston and Phineas J. Whoopee, who used an animated chalkboard as a re-education tool.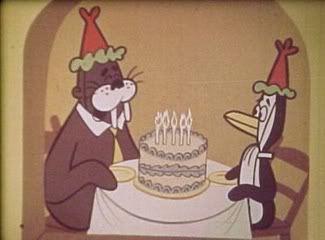 "Chumley, did you use KY Jelly as the frosting on this cake?"
"Duh, gee, I dunno, Tennessee."

I remember there were many inconsistencies on the show. Tennessee and Chumley were constantly scheming of ways to escape from the zoo, but they easily strolled out to hang out with Mr. Whoopee. Would that our worse-than-a-dimwitted-president could walk out of Iraq so easily. As driftglass observed after a Saturday morning of channel surfing:
Over on Channel 23 they're showing reruns of Tennessee Tuxedo. It's the most honest five contiguous minutes I've heard all morning.

He and Chumley are apparently plotting to escape from Stanley Livingston's Zoo.

Damn!

When even cartoon penguins have better exit strategies than the White House, you know you're fucked.
Better make a note of that, Chumley...
~/~
Blogging will be flickering on and off for a few weeks because of an illness in my family. I'll post when I can.