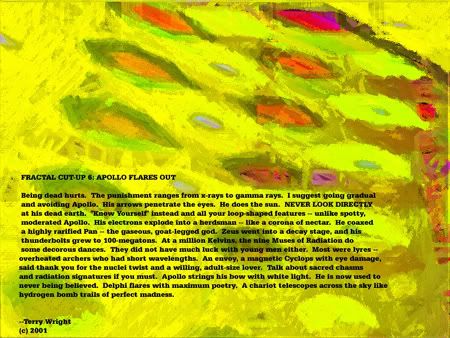 Apollo Flares Out (2001)

Being dead hurts. The punishment ranges from hard x-rays to soft gamma rays. I suggest going gradual and avoiding Apollo. His arrows penetrate the eyes. He does the sun. NEVER LOOK DIRECTLY at his dead earth. Know Yourself instead and all your loop-shaped features -- unlike spotty, moderated Apollo. His electrons explode into a herdsman – like a corona of nectar. He coaxed a highly rarified Pan -- the gaseous, goat-legged god. Zeus went into a decay stage, and his thunderbolts grew to 100-megatons. At a million Kelvins, the nine Muses of Melanoma do some decorous dances. They did not have much luck with young men either. Most were lyres -- overheated archers who had short wavelengths. An envoy, a magnetic Cyclops with eye damage, said thank you for the nuclei dance and a willing, adult-size lover. Talk about sacred chasms and radiation signatures if you must. Apollo strings his bow with white light. He is now used to never being believed. Delphi flares with maximum poetry. A chariot telescopes across the sky like hydrogen bomb trails of perfect madness.
~/~
Using the "cut-up" composition method popularized by William S. Burroughs, two blocks of text were run through a virtual cut-up machine. The result: a randomly scrambled "found" text mirroring chaos theory and yielding new meanings.
The two texts used here and merged were:
1) an article on Apollo, Greek god of the sun--
2) an article explaining the properties of solar flares--
~/~
This one is either too bright -- or not bright enough.