Homage to Anita Huffington (1999)
From Anita Huffington's page at the University of Arkansas:

The sculptor Anita Huffington's history includes a long period in New York City starting in the late fifties when she came to study dance with Martha Graham. She encountered a circle of artists of the New York School such as Kline, de Kooning, and others, as well as a diverse and individualistic group of painters, sculptors, musicians, and poets in this vital idealistic period. These experiences and her later choice to live in the wilderness of Arkansas sowed the seeds for the sculptures she makes in stone and bronze. Her work reflects upon both the world of art and of nature.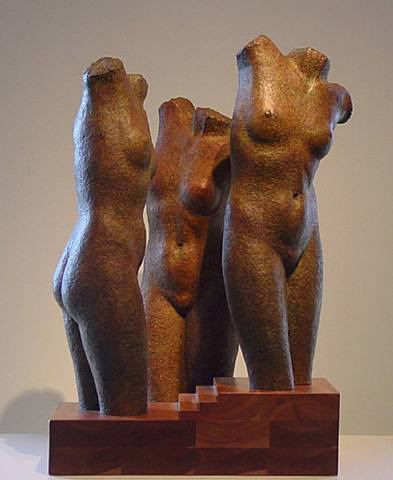 Three Graces by Anita Huffington
[Sculpture photograph seen on artnet]
And, also from the site at the U of A, an excerpt from her Artist's Statement:
What interests me most is the timeless element in the art of all periods and places. My sculpture has always been a composite and synthesis of elements drawn from nature and the history of art. With sandstones in particular (perhaps affected by their rude nature), I seem to move backward through time from classical, to archaic, to prehistoric to the unknown form in the formless. Through more and more reduction, down to elemental forces of rock and earth, I seek a unity that expresses something more than the visible.
I knew Anita when I lived in Fayetteville in the 1970's -- and even had the opportunity once to visit her studio and to watch her work. I've always found her art to be breathtaking in its sensuousness.