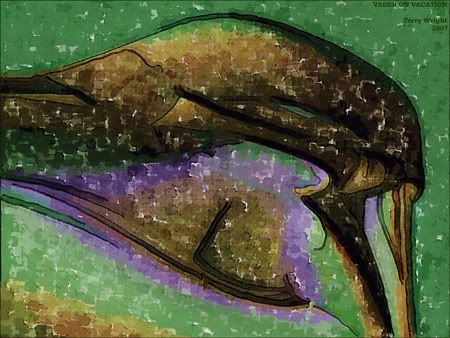 Vader on Vacation (2007)
This year Tonya will party down
at Helm's Deep. After car rentals, tummy
tucks at the Salem Witch Museum,
she plans for a better security
video. Carrying all that bionic gear
makes the whole Lord Vader thing look
silly. Our travel agent left bad maps
to the Death Star Bed and Breakfast
and all white plastic employees swap masks
for bermuda shorts and sandals. So I
showed my wife an ugly prequel. She left
me for a whiny emo kid with a raspy voice.
~/~
Image light-sabered out of QuaSZ and mind-tricked to the max in Photoshop. Plus a found poem Yoda-levitated from Google phrase strings imperial-walked from pod races search strings of "vader on vacation."

~/~
Technorati Tags: photoblog, fractal, fractal art, digital art, computer art, poetry, found poetry, darth vader