Chinese Lantern (2004)
From China Highlights:
China's paper lanterns are more than just decorations. Since 250 B.C. they have silently spoken of births, deaths, social status and approaching danger. For instance, special red lanterns are used for weddings and white lanterns for funerals. Children in China also make lanterns at school and hang riddles on them. Today they have their place as honored guests at ceremonies and festivals.

[...]

The placement and color of lanterns serve as a vital communication link in these tremendously communal residential areas. Since red connotes vitality and energy at its maximal state, a red lantern placed outside a doorway tells of a birth or marriage. A blue lantern, representing declining energy or sickness, indicates there is illness in the household. And white signifies energy eliminated or death, so a white sash draped across the top of the doorway, flanked by two white lanterns announces that the family is in mourning.
Still feeling quesy. Perhaps my lantern needs a little touch-up...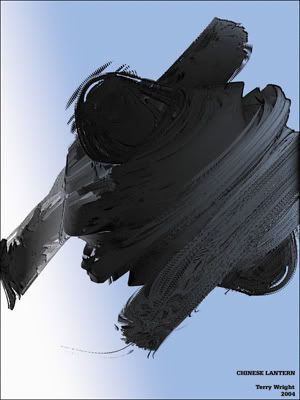 Makes a good bathroom night light, too...
~/~
Technorati Tags: photoblog, fractal, fractal art, digital art, computer art, art, chinese lantern