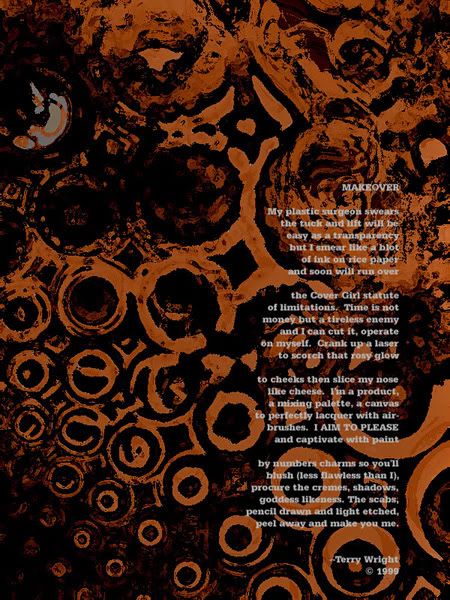 Makeover (1999)
My plastic surgeon swears
the tuck and lift will be
easy as a transparency
but I smear like a blot
of ink on rice paper
and soon will run over
the Cover Girl statute
of limitations. Time is not
money but a tireless enemy
and I can cut it, operate
on myself. Crank up a laser
to scorch that rosy glow
to cheeks then slice my nose
like cheese. I'm a product,
a mixing palette, a canvas
to perfectly lacquer with air-
brushes. I aim to please
and captivate with paint
by numbers charms so you'll
blush (less flawless than I),
procure the crèmes, shadows,
goddess likeness. The scabs,
pencil drawn and light etched,
peel away and make you me.
From AmbushMakerover.com:

"The show that's gonna change the face of television." AMBUSH MAKEOVER, is a first-run half-hour strip featuring some of Hollywood's and New York's best and most celebrated stylists, make-up and hair artists in the country. Their client lists include several A-list celebrities, such as Britney Spears, Destiny's Child, Michelle Pfeiffer and Julianne Moore.

From the producers of Trading Spaces, AMBUSH MAKEOVER and its team of famous celebrity Style Agents give their fashion 'targets' an ultimatum -- either drop everything that very instant to embark on an exciting makeover or continue on about their day without ever knowing what could've been! As our Style Agents initiate their makeovers, the back-stories and the reactions to the reveals of their expertise are as much fun as the makeovers themselves, captivating viewers with the makeover's beginning to the dramatic ending.
From ienhance.com:
Having multiple plastic surgery procedures lets you get more done at one time. There is no need to take extra time off from work to have a second procedure. You also do not have to pay twice for hospital or anesthetic fees. Remember, too, that in order to have multiple plastic surgery procedures it is imperative that you are in good health and have selected a qualified doctor, who specializes in the procedure. Extreme Makeover, the television series, highlights the changes possible through plastic surgery. The before and after photos of a participant offer a sharp contrast and let you se the dramatic effect cosmetic surgery can make.
And from talksurgery, inc.:
Micheline Charest, the co-founder of the animation company Cinar, has died after she suffered cardiac arrest following a face-lift, breast-lift and liposuction, leaving behind a husband and two teen-aged sons. She was 51.

[...]

In Florida, an order by the Health Department said Dr. Kurt Dangl committed gross malpractice and failed to adequately administer, monitor and record anesthesia given to Julie Rubenzer during breast augmentation surgery last September. Rubenzer, 38, never regained consciousness after the procedure and she died December 26.
And, finally, from Doom Patrols by Stephen Shaviro:
People in primitive societies flay the skin of their enemies, thereby depriving them of their souls. But we in postmodern America prefer to discipline the body by adding ever more epidermal layers, multiplying faces, images, and souls.

[...]

The face is less a mask or a disguise, Deleuze and Guattari suggest, than it is the mark of an evacuation of the depths, a libidinous transformation of the entire body into surface, and nothing but surface.
The image behind the poem reminded me of skin cells being scalded and mutating into atomic particles.

And, really, isn't the Frankenstein monster merely an "extreme makeover"?