Childhood of Jayne Mansfield (2000)
She's a dead doll.
Her bleached

roots streaked with tar,
her car

a lethal dog-
house stuffed

like a straw head
lopped off.

*

Her way is paved with glass,
her roadster a fire engine
for kids in a hurry
to put out

hormones. Jayne turns
in the bathtub. Her black
and white breasts squish
suds, dark as blood in a grainy

print. Her stiff hair
like Barbie not Monroe
blows without wind --
a wig on a hood ornament.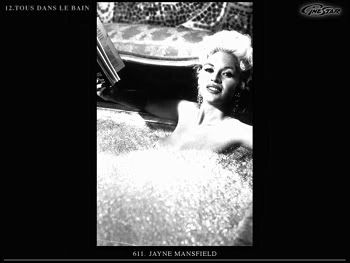 From swinginchicks.com:
Instantly memorable for the most dramatic curves this side of a Swiss road, for the biggest guns this side of Navarone, for the biggest peaks this side of the Rockies ... you get the point. Her impact might've even been longer lasting if she'd accepted the role of Ginger on Gilligan's Island, but she turned it down and Tina Louise got it. Still, there's no denying that Jayne was a certifiable legend: In January '99 Playboy published its list of "The 100 Sexiest Stars of the Century," and Jayne came in second right between two Swingin' Chicks of the '60s -- Marilyn and Raquel (two-dozen other Swingin' Chicks of the '60s made that list, including Anita Ekberg at #14, Stella Stevens at #29, and Julie Newmar at #88).

Her late-'50s successes like The Girl Can't Help It and Will Success Spoil Rock Hunter? didn't carry over to the '60s, but she managed to sustain a career of B-movie roles through the decade. Most prominent were her scandalous near-nude appearance in Promises, Promises in '63 and a memorable cameo in A Guide for the Married Man with Linda Harrison and Inger Stevens in '67. Unfortunately, when Jayne's friend Marilyn died in '62, the classic platinum-blonde sex-siren look died with her. Jayne's roles became more and more cartoonish, and her movies slipped down the alphabet from "B" titles to "C" and worse. By mid-decade her movie career was downright embarrassing (see The Las Vegas Hillbillies in '66, in which she appeared with Mamie Van Doren). Not to be denied an audience, Jayne performed in one fashion or another all decade long, right up until her sudden death in '67. She had her own Vegas show in the early '60s, toured military bases with Bob Hope, released a live album called Jayne Mansfield Busts Up Las Vegas, traveled the nightclub circuit, and when all else failed made personal appearances for any organization or supermarket that would have her. Sadly, for some of these appearances she wasn't even paid in cash -- to show up at a meat-packing plant, she once received 250 pounds of meat. Jayne Mansfield tragically died in '67 on the way to a nightclub appearance when her car slammed into the back of a truck on a fog-shrouded highway near New Orleans, Louisiana. She was killed instantly, as was lawyer Sam Brody and her driver, but the three kids asleep in the back all lived. Jayne wasn't decapitated, in contrast to wide-spread rumors; it was a wig that flew out of the car.
On April 4, 1998, two years after the death of its eccentric owner and one month after officially closing its doors, the Tragedy in U.S. History Museum in St. Augustine, FL offered for auction its entire collection of morbid memorabilia, which included Mansfield's 1966 Buick Electra. The death car, however, "crumpled like a piece of tinfoil after a cookout, with its roof torn off and its front end smashed," failed to fetch a buyer.

Auction attendees report that Mansfield was not decapitated, but was instead scalped, which was apparently confirmed by police photos of the accident scene, and which explains why some accounts reported that she merely lost a wig. Neither it seems was she caught in crush of vehicle -- she was thrown clear -- nor was she wearing a dress, but slacks and knit top.
Two exchanges between Vaughan and James draw out the theme of this film and show Cronenberg's persistence in extending the themes of his previous ones. Midway through the film, Vaughan explains his "Project" to James. He wants to re-create the circumstances of Jayne Mansfield's death in the car crash that decapitated her. James asks him about it, and Vaughan replies, "It's something we're all involved in . . . the reshaping of the body by modern technology." The scene cuts at that point, but a bit later he and James pick up the same issue. James feels the thrill, but can't explain it because Vaughan's earlier explanation seems inadequate: "It's all very satisfying, but I'm not sure why a car crash is a fertilizing event." Vaughan replies that all that technology/body stuff is a pop sci/fi idea, that the real charge is the release of pent-up sexual energy that a crash, or a near-crash releases. The eroticism comes from the potential power of a car to break the barriers of normality, the "rules of the road,"
proxemic spatiality, the socially sanctioned ways of acting (sexually speaking or otherwise). (We're much more likely to break codes to get an orgasm than for anything else). As James says, "After being bombarded by road safety propaganda, it was almost a relief to find myself in an accident."
Today's background image for the poem ...well, make of it what you will -- a hood ornament...approaching headlights...smoke in stasis after impact...your own private crash...