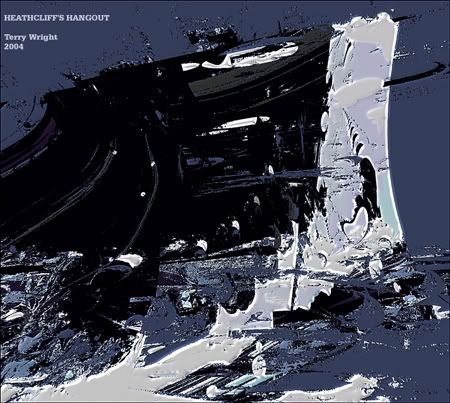 Heathcliff's Hangout (2004)
From SparksNotes on Emily Bronte's Wuthering Heights:
Wuthering Heights centers around the story of Heathcliff. The first paragraph of the novel provides a vivid physical picture of him, as Lockwood describes how his "black eyes" withdraw suspiciously under his brows at Lockwood's approach. Nelly's story begins with his introduction into the Earnshaw family, his vengeful machinations drive the entire plot, and his death ends the book. The desire to understand him and his motivations has kept countless readers engaged in the novel.

Heathcliff, however, defies being understood, and it is difficult for readers to resist seeing what they want or expect to see in him. The novel teases the reader with the possibility that Heathcliff is something other than what he seems -- that his cruelty is merely an expression of his frustrated love for Catherine, or that his sinister behaviors serve to conceal the heart of a romantic hero. We expect Heathcliff's character to contain such a hidden virtue because he resembles a hero in a romance novel. Traditionally, romance novel heroes appear dangerous, brooding, and cold at first, only later to emerge as fiercely devoted and loving. One hundred years before Emily Brontë wrote Wuthering Heights, the notion that "a reformed rake makes the best husband" was already a cliché of romantic literature, and romance novels center around the same cliché to this day.

However, Heathcliff does not reform, and his malevolence proves so great and long-lasting that it cannot be adequately explained even as a desire for revenge against Hindley, Catherine, Edgar, etc. As he himself points out, his abuse of Isabella is purely sadistic, as he amuses himself by seeing how much abuse she can take and still come cringing back for more. Critic Joyce Carol Oates argues that Emily Brontë does the same thing to the reader that Heathcliff does to Isabella, testing to see how many times the reader can be shocked by Heathcliff's gratuitous violence and still, masochistically, insist on seeing him as a romantic hero.
From Turner Classic Movies:
Wuthering Heights (1939) followed a circuitous path to the screen.

[...]

William Wyler, Goldwyn's star director, loved the adaptation and urged his boss to buy it. Wyler had Bette Davis, with whom he'd worked on Jezebel (1938), in mind for Cathy. [Sam] Goldwyn had another suggestion: Merle Oberon, whom he had under contract.

Goldwyn's first choice for Heathcliff was Ronald Colman, whom most people felt was wrong for the part and was unavailable anyway. Oberon suggested Douglas Fairbanks, Jr., who tested badly. English actor Robert Newton also tested, but Goldwyn thought he was "ugly." Someone brought Laurence Olivier to Goldwyn's attention, and he dispatched Wyler to England to look at the actor. Olivier hesitated; he'd failed miserably in Hollywood a few years earlier, and had been fired as Garbo's leading man in Queen Christina (1933). Olivier was now a star of the British stage, and convinced that was where he belonged. He was also involved in an intense affair with Vivien Leigh, and didn't want to be separated from her. Wyler offered Leigh the secondary role of Isabella in Wuthering Heights, but she wanted to play Cathy, or nothing. Finally, it was Leigh who convinced Olivier that he couldn't pass up the opportunity, and he agreed to play Heathcliff. Months later, during a trip to the U.S. to see Olivier, Leigh was introduced to producer David O. Selznick and signed to play Scarlett O'Hara in Gone with the Wind (1939).

Filming on Wuthering Heights began in December, 1938. The hills of the San Fernando Valley north of Los Angeles stood in for the Yorkshire moors. 500 acres were covered with tumbleweed topped with purple sawdust to simulate heather. A thousand real heather plants were imported from England for close-ups. During shooting on the fake moors, Merle Oberon slipped and sprained her ankle, and shooting was suspended for a week. During that time, the heather grew so tall in the California sunshine that it no longer looked like the real thing.

[...]

Olivier also suffered under Wyler's direction. After being forced to do a scene over and over, Olivier exploded. "I've done it thirty different times, thirty different ways," he shouted. "How do you want me to do it?" "Better," Wyler replied. Furious, Olivier sneered, "I suppose this anemic little medium can't take great acting."

[...]

Olivier found another target for his frustration and contempt in Merle Oberon, whom he resented for playing the role he thought Vivien Leigh should have won. At one point, Oberon accused Olivier of spitting on her during a love scene, and he called her an "amateur," and a "bloody idiot." Amazingly, none of this hostility is apparent onscreen.
From "The Gothic and Wuthering Heights" -- course notes by Lilia Melani:
Brontë has incorporated the Gothic trappings of imprisonment and escape, flight, the persecuted heroine, the heroine wooed by a dangerous and a good suitor, ghosts, necrophilia, a mysterious foundling, and revenge. The weather-buffeted Wuthering Heights is the traditional castle, and Catherine resembles Ann Radcliffe's heroines in her appreciation of nature. Like the conventional Gothic hero-villain, Heathcliff is a mysterious figure who destroys the beautiful woman he pursues and who usurps inheritances, and with typical Gothic excess he batters his head against a tree.
And, finally, assuming the mistiness of the moors won't dampen your playtime activities, how about a Heathcliff paper doll from paperdolls.com?: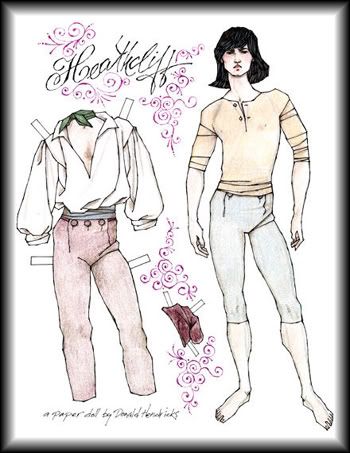 Oh God! it is unutterable!
Ah, Heathcliff -- you old Ur-Goth. Weirder than Mickey Rourke and more intense than Crispin Glover. How did you go from this:
to this: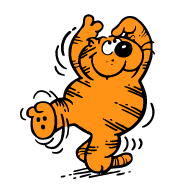 That's right. I pray one prayer, I repeat it till my tongue stiffens: NOOOOOOOOO!!!