Doberman (2002)

Every species has its king(s). From the Doberman FAQ:
Every field has its legends. In the entertainment world Elvis Presley has become a legend. Although he has been dead for a number of years, his popularity amongst many people has increased. Each year people spend more money on visiting his home Graceland in Memphis than Elvis usually earned in a year. There are many who still make a living impersonating him. There are stories constantly popping up in the supermarket newspapers stating that he is still alive. He has become a legend although many considered him just a better than average singer, actor, and entertainer.

In the Dobe world, there is also a legend. His name is Borong the Warlock. It is not unusual for someone to call a Dobe club Breed Referral number and say, "I have this Warlock male. He is a fawn and one hundred and ten pounds. I want to breed him to a bitch that is strong and exceptional, preferably a Warlock bitch." Or for another caller to state, "My bitch is a Warlock but she is getting old, I would like to get another Warlock bitch." Members of many Dobe clubs report that they get calls very similar to the ones just described.

In 1973, there was a person who lived in Pasadena, Texas who told people that her Dobes were Warlocks. She did a lot of breeding and sold her puppies to people who really did not know much about Dobes. The Dobes she bred were not exceptional and in some instances were rather poor specimens of the breed. That was more than twenty years ago!

Was there a Warlock? If there was, why do people still use his name? Frank Grover in The Doberman Scribe, No. 7, in an article entitled "American Doberman Pinscher Legends" wrote about Borong the Warlock. Frank stated, "The Doberman who began the legend was born in Florida in the middle 1950's. His breeders were Theodosia and Henry Frampton. They named this pup Borong the Warlock."

A warlock is a male witch, sorcerer, wizard or demon. Grover points out that the name did not describe Borong because he was a direct, rather quiet-mannered dog, well trained and never aggressive toward anyone nor other dogs.

[...]

Over the years Warlock has been associated with oversized Dobes. Dobe fanciers in Texas thought this was just a local phenomenon, but there have been reports that there are "Warlocks" in many other states. Because of their size, the "Warlocks" are not shown and have no connection to the original Borong the Warlock.
I guess Borong the Warlock has no breed or blood ties to BushCo the Dumbshit: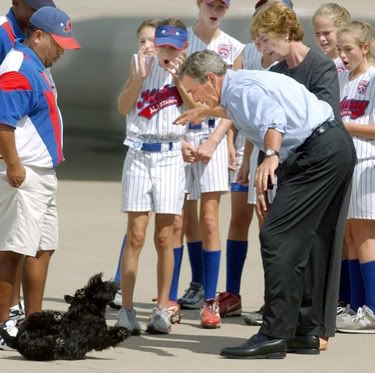 Now watch this drop...

[Photograph seen on eightface]
From the crack addled wingnuts of the Freeperdom Republic, 8-31-03:
George Bush stunned his wife Laura and the members of the Waco Midway Little League Softball World Series championship team when he dropped his dog, Barney.
Hmmm. Isn't this a guy who threatens to veto legislation outlawing torture? Could there be a pattern here?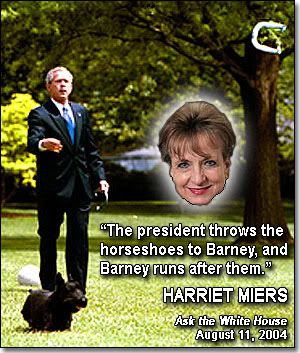 Now watch this ringer...

[Image from the Village Voice]
I dunno. It's hard to argue with the floating disembodied head of Harriet "She-Deserves-A-DownDownDowntheBurningRingofFire-Vote" Miers. And I'm beginning to suspect that some of Barney's buds might have the First Dog's back and are planning a little extraordinary rendition outsourcing of their own:
Come along, Enviscerator. Let's pay a payback visit to Barney's mean master.

[Photograph seen on argon.org]
There's kings...and then there's wannabe kings. And I think somebody needs to be hit on the nose with a rolled-up Constitution for being a bad bad boy...