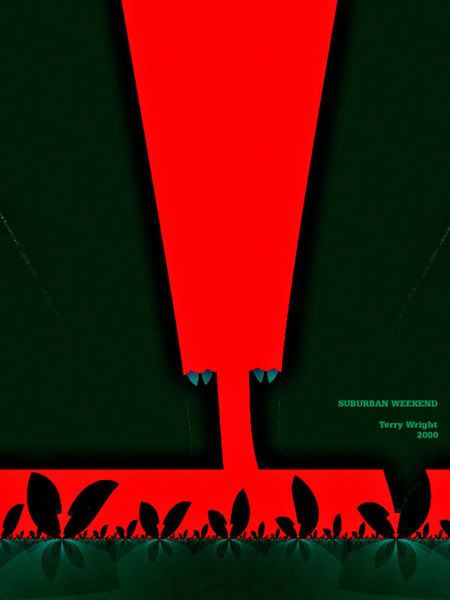 Suburban Weekend (2000)

And the people in the houses
All go to the university,
And they all get put in boxes,
Little boxes, all the same.
--Malvina Reynolds, "Little Boxes"
From The Harvard Design Magazine -- "Ozzie and Harriet in Hell" by Mike Davis:
In other metropolitan areas, of course, the class differentiation of suburbia still corresponds to the concentric rings -- income increasing outward -- of the old Burgess Park model of urban ecology. The "hole in the donut," as it were, is growing larger. At the same time, the new intensity of intersuburban interaction -- including commutes-to-work and flow of goods -- has dramatically weakened, if not fully displaced, the traditional solar system model of suburbs radially attracted to the center. Indeed, in some metropolises, the outlying major airport, with its office towers, warehouses, and convention facilities, has become more gravitationally important as a center of employment and exchange than the older downtown.

The have-not suburbs, moreover, have accelerated their own decline by squandering scarce tax resources in zero-sum competitions for new investment. Too many poor communities have tried to upscale themselves through a combination of draconian social engineering (restriction or even removal of low-income residents) and desperate bids for new tax resources. If a decade ago, every aging L.A. suburb from Compton to Pomona had to have its own auto mall, now the mügic bullet is believed to be a card casino (and both Compton and Pomona are scheming to build one). Redevelopment programs, which in California devour 10 to 15% of local tax revenue, have become little more than cargo cults, praying for miraculous investments that never come.

In addition to the dramatic hemorrhage of jobs and capital over the last decade, senile suburbia also suffers from premature physical obsolescence -- the architectural equivalent of Alzheimer's disease. Much of what has been built in the postwar period (and continues to be built today) is throw-away architecture, with a thirty-year or less functional lifespan. "Dingbats" and other light-frame sunbelt apartment types are especially unsuited to support the intergenerational continuity of community and property. At best, this stucco junk was designed to be promptly recycled by perennially dynamic housing markets. But such markets have stagnated or died in much of the old suburban fringe.
So what, exactly, about the suburbs is so soul crushing? Is it the place?
I would sum up my fear of the future in one word: boring...The future is just going to be a vast, conforming suburb of the soul.
--J. G. Ballard
[Photograph: Suburb by Jeff Spirer]
Or is it what the place produces?
If Jack Kerouac had set out to find a real bookstore in the suburbs, he would still be on the road, Phileas Fogg would still be in the air, the Ancient Mariner wouldn't have had time to tell anyone his story.
--Michael Winerip
[Photograph from Clerks II site]