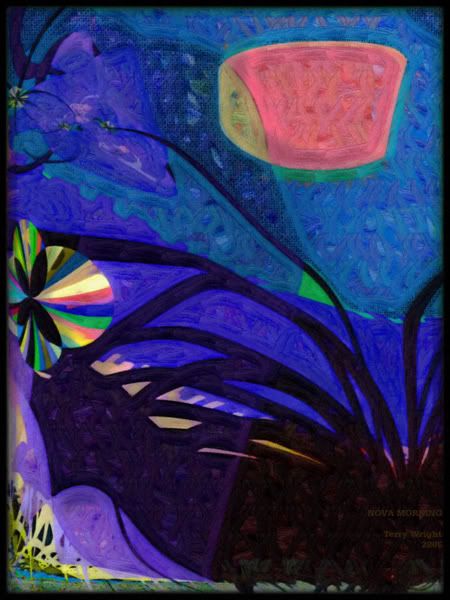 Nova Morning (2006)
I think I've got all those homages out of my system (at least for now), so I thought I'd put up something new.
Still, I'm struck again by the visual limitations of my blog. My images are created at considerably larger sizes than the shrunk down facsimiles that will comfortably squeeze into a blog format. Even if you click on the image above and surf to see a larger version on my web site, you're still only getting a fraction of the picture. A high quality Giclee print of 2 feet by 3 feet (or larger) would certainly give you a better sense of the intricacies and textures found in my work.
Here's a peek into the bottom left corner of today's image:
Detail of Nova Morning
If you'd like to get a better feeling for how my images look at larger sizes, please visit the current issue of The Arkansas Literary Forum, an online literary and art magazine. I have about 40 larger scale images on display there.