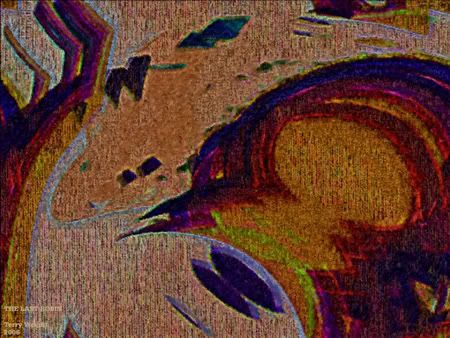 The Last Robin (2006)
-- won't be the early bird...
-- will find the worm has turned...
--won't be bop-bop-bopping anywhere...
Upper left corner detail of The Last Robin
From The American Robin Blog -- Day 17 -- "The Last Robin Takes Flight":

At 6:30 AM the third robin took flight. The young robin tried to fly to a support beam, but missed and fell to the deck below, landing upside down. It had its eyes open and appeared to be in good condition. The fledgling struggled for a while, but was able to turn over using its wings and short tail feathers.
-- won't grasp the business savvy of Arctic drilling...
-- won't migrate to that non-existent "healthy forest..."
-- won't give a damn about showing up for spring...
~/~
Tags: photoblog-posts, photoblog, art, fractal, fractal art, digital art, robin