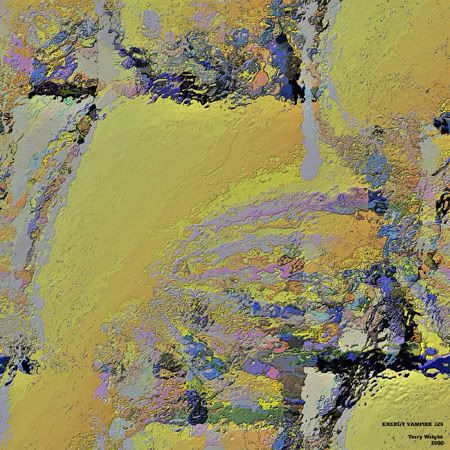 Energy Vampire 326 (2000)
Three images slink out of the hard drive graveyard today. They are part of a series called Energy Vampires -- 400 images that I worked on sporadically for over five years. I wrote about the series about a year ago, but very few of the images have appeared here.
Stakes pulled from their pixel corpses--
Rising from their digital coffins --
Energy Vampire 333 (2000)
The composition method for the series is positively parasitical. I found fractal images by other artists and messed them up severely with multiple layer dumps of whatever would stick to the monitor. I was sampling. Often, I would cannibalize my own images for the greater good. They were probably undead anyway. And, now, these three live again by feeding off the artistic blood of others and by draining the meaninglessness from my own failures.
Transforming into fractal werewolves --
You're getting sooo sleepy and different--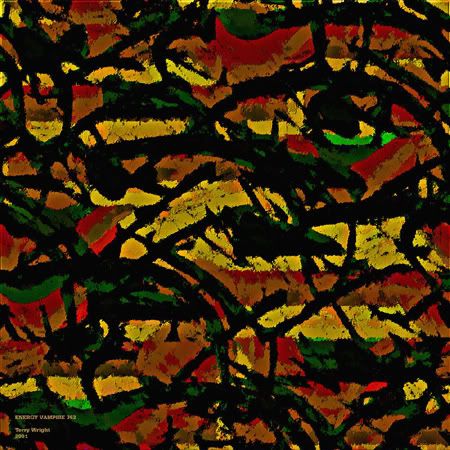 Energy Vampire 352 (2001)
I kept no record of whose images I bit in their beds -- or which of my own were seduced and sucked to a husk. I deliberately did not want to remember. The process itself was all that mattered -- just as the vampire is driven to feed off others with myopic need. The artist as leech. The artist as tapeworm.
Stealing silently onto your web sites --
Gradually making you more like him --
~/~
Technorati Tags:
photoblog
,
art
,
fractal
,
fractal art
,
digital art
,
energy vampire