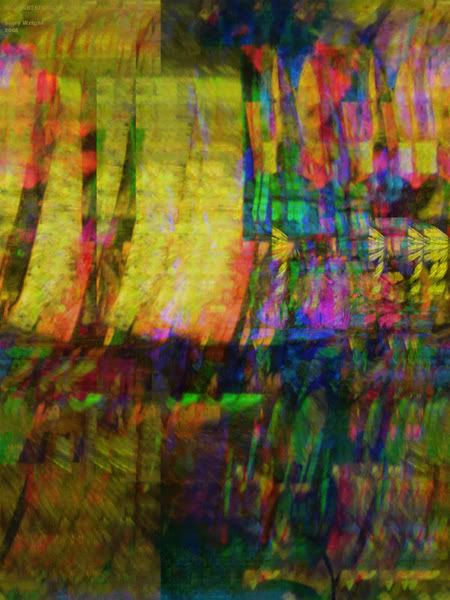 Deconstructed Canary (2008)
[Click on the image above to see the view with binoculars.]
Through an extraordinary highlight
postmodern political debates reassembled.
Icon vaudeville overall. You guys
in old gangster movies get dissected
and remain troubled by failure. Rhinestones
help frame you even when the Justice Department
says nothing. What are you? Yellow?
Even with that microphone? You've given
the world sportswear and strangled parachutes. You have
a cable show. Narrate away
your private history of lost love trifles
and magical realist bullshit.
Further on down the coast
all your public photos and videos are tagged
with see-through critiques. A canary,
less composed but more used,
must be crushed by a magician's cage.
~/~
Something new. Image made with Fractal Zplot. Post-processed until the image collapased just moments before everything caved in. Text is a "Google poem" collaged from search strings of deconstructed canary.
Tags: fractal, fractals, fractal art, poetry, found poetry, google poem, illustrated poetry, view with binoculars, deconstructed canary, chris matthews cave in, cruelanimal, blog with a view