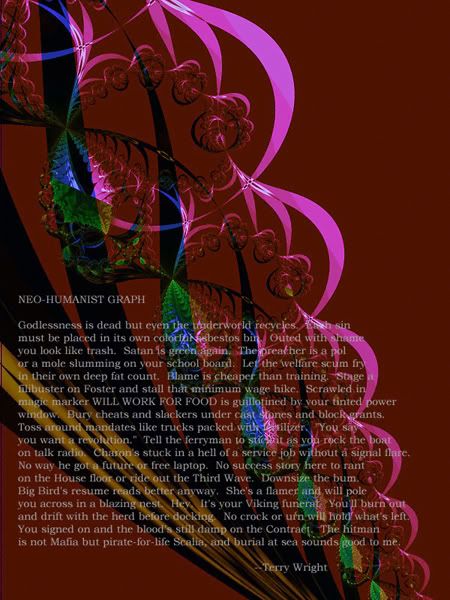 Neo-Humanist Graph (1999)

Godlessness is dead but even the underworld recycles. Each sin must be placed in its own colorful asbestos bin. Outed with shame you look like trash. Satan is green again. The preacher is a pol or a mole slumming on your school board. Let the welfare scum fry in their own deep fat count. Blame is cheaper than training. Stage a filibuster on Foster and stall that minimum wage hike. Scrawled in magic marker WILL WORK FOR FOOD is guillotined by your tinted power window. Bury cheats and slackers under cast stones and block grants. Toss around mandates like trucks packed with fertilizer. You say you want a revolution. Tell the ferryman to stick it as you rock the boat on talk radio. Charon's stuck in a hell of a service job without a signal flare. No way he got a future or free laptop. No success story here to rant on the House floor or ride out the Third Wave. Downsize the bum. Big Bird's resume reads better anyway. She's a flamer and will pole you across in a blazing nest. Hey. It's your Viking funeral. You'll burn out and drift with the herd before docking. No crock or urn will hold what's left. You signed on and the blood's still damp on the Contract. The hitman is not Mafia but pirate-for-life Scalia, and burial at sea sounds so good to me.
~/~
I wrote the poem above in the mid-90s, but it seems recycled easily for the Reign of Bush. Gay bashing. Stealth religious rule. Bankruptcy punishment. Bootstraps mentality for everyone but the "have-mores." PBS under criticism for not being as "fair and balanced" as Fox News. And, of course, John Roberts, 50, another potential "pirate-for-life." After all, according to dKosopedia:
As noted on

Law.com

, many who know Roberts say he, unlike Souter, is a reliable conservative who can be counted on to undermine if not immediately overturn liberal landmarks like abortion rights and affirmative action. Indicators of his true stripes cited by friends include: clerking for Rehnquist, membership in the

Federalist Society

, laboring in the Ronald Reagan White House counsel's office and at the Justice Department into the Bush years, working with Kenneth Starr among others, and even his lunchtime conversations at Hogan & Hartson. "He is as conservative as you can get," one friend puts it. In short, Roberts may combine the stealth appeal of Souter with the unwavering ideology of Scalia and Thomas.
And, naturally, we the people will insist that Roberts' record be scrupulously studied and rationally debated -- all the while refusing to be distracted by superficialities and assorted "catapulted propaganda." Right?
From Underneath Their Robes:
--And boy does he belong in the spotlight! Judge Roberts is lookin' super-hunky tonight, much younger than his 50 years. He's not the

#5 Superhottie

of the Federal Judiciary for nothing!




[...]




President Bush mentions that Judge Roberts was born in Buffalo, grew up in Indiana, and was the captain of his high school football team. Hunky hunky hunky!




[...]




--Now President Bush yields the podium to Judge Roberts. Hubba hubba!
Why does the gushing above almost read as a parody to me? Oh yeah. Now I remember...
Cartoon by Ruben Bolling

Back to the (dismal) future? Nothing puts me in the "last throes" of orgiastic excitement like 30+ years of ironclad conservative dogma hanging over the country like the Sword of Damocles.
It's our poster boy politics -- our Viking funeral. And burial at sea sounds...