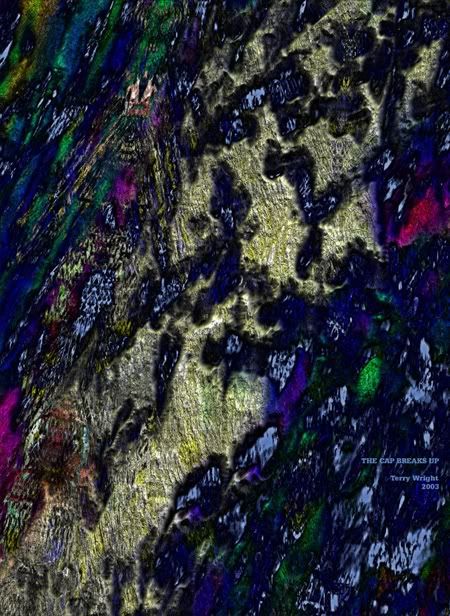 The Cap Breaks Up (2003)

Chicken Little should have cast his eyes downward. The sky may not be falling...but the world is melting.
Shuffle your iPod to the Clash's "Armaggedeon Time" and play Q&A with the Natural Resources Defense Council:
What kinds of changes are taking place in the Arctic now?

Average temperatures in the Arctic region are rising twice as fast as they are elsewhere in the world. Arctic ice is getting thinner, melting and rupturing. For example, the largest single block of ice in the Arctic, the Ward Hunt Ice Shelf, had been around for 3,000 years before it started cracking in 2000. Within two years it had split all the way through and is now breaking into pieces.

The polar ice cap as a whole is shrinking. Images from NASA satellites show that the area of permanent ice cover is contracting at a rate of 9 percent each decade. If this trend continues, summers in the Arctic could become ice-free by the end of the century.

[...]

Will Arctic ice melt have any effects beyond the polar region?

Yes -- the contraction of the Arctic ice cap is accelerating global warming. Snow and ice usually form a protective, cooling layer over the Arctic. When that covering melts, the earth absorbs more sunlight and gets hotter. And the latest scientific data confirm the far-reaching effects of climbing global temperatures.

Rising temperatures are already affecting Alaska, where the spruce bark beetle is breeding faster in the warmer weather. These pests now sneak in an extra generation each year. From 1993 to 2003, they chewed up 3.4 million acres of Alaskan forest.

Melting glaciers and land-based ice sheets also contribute to rising sea levels, threatening low-lying areas around the globe with beach erosion, coastal flooding, and contamination of freshwater supplies. (Sea level is not affected when floating sea ice melts.) At particular risk are island nations like the Maldives; over half of that nation's populated islands lie less than 6 feet above sea level. Even major cities like Shanghai and Lagos would face similar problems, as they also lie just six feet above present water levels.

Rising seas would severely impact the United States as well. Scientists project as much as a 3-foot sea-level rise by 2100. According to a 2001 U.S. Environmental Protection Agency study, this increase would inundate some 22,400 square miles of land along the Atlantic and Gulf coasts of the United States, primarily in Louisiana, Texas, Florida and North Carolina.

A warmer Arctic will also affect weather patterns and thus food production around the world. Wheat farming in Kansas, for example, would be profoundly affected by the loss of ice cover in the Arctic. According to a NASA Goddard Institute of Space Studies computer model, Kansas would be 4 degrees warmer in the winter without Arctic ice, which normally creates cold air masses that frequently slide southward into the United States. Warmer winters are bad news for wheat farmers, who need freezing temperatures to grow winter wheat. And in summer, warmer days would rob Kansas soil of 10 percent of its moisture, drying out valuable cropland.
Sounds dire, you say, but is there really any concrete evidence that global warming is definitely behind the ice caps turning into slushies? Isn't all this unnecessary panic button stuff just junk science? Researchers at the University of Toronto might give you pause:
Global climate change is having a direct impact on the Earth's sea level and a group of scientists led by two U of T geophysicists is providing the sea level "fingerprints" of polar ice sheet melting to prove it.

Rates of sea level change over the last century vary widely from one geographic location to another even after these rates have been corrected for known effects. The question has always been, why? What is causing these significant variations? Jerry Mitrovica, U of T's J. Tuzo Wilson Professor of Geophysics, is lead author of a paper to appear in the Feb. 22 issue of Nature that claims to have discovered the answer. And it is an answer that has an important impact on the debate over global climate change.

Mitrovica and his colleagues argue that scientists have not widely appreciated that melting from the Antarctic, for example, will have a distinctly different pattern or fingerprint in how it affects sea level than melting from Greenland or small mountain glaciers. It is these patterns that are causing the variation in the global sea level rise.

"We calculated these fingerprints using computer models and then showed that the observed record of sea level change displays the fingerprints," says Mitrovica. "Sea level is rising, and based on our work and the analysis of sea level data, not only can we assess the total amount melting from the ice caps, but we can also tell where that meltwater is coming from."
That sounds uncomfortable, you add. But surely our leaders at BushCo and their serfs at Republican-Controlled-Everything, Inc., currently engaged in the "hard work" of ripping the guts out of the Endangered Species Act, will govern in the best interests of the planet. Won't they?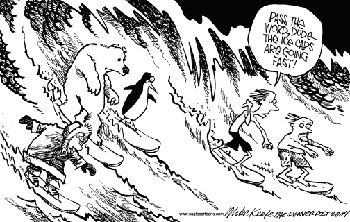 They won't. What planet you been living on...for now, anyway? The Guardian reveals:
White House officials have undermined their own government scientists' research into climate change to play down the impact of global warming, an investigation by The Observer can reveal.

The disclosure will anger environment campaigners who claim that efforts to cut greenhouse gas emissions are being sabotaged because of President George W. Bush's links to the oil industry. Emails and internal government documents obtained by The Observer show that officials have sought to edit or remove research warning that the problem is serious. They have enlisted the help of conservative lobby groups funded by the oil industry to attack US government scientists if they produce work seen as accepting too readily that pollution is an issue.

Central to the revelations of double dealing is the discovery of an email sent to Phil Cooney, chief of staff at the White House Council on Environmental Quality, by Myron Ebell, a director of the Competitive Enterprise Institute (CEI). The CEI is an ultra-conservative lobby group that has received more than $1 million in donations since 1998 from the oil giant Exxon, which sells Esso petrol in Britain.

The email, dated 3 June 2002, reveals how White House officials wanted the CEI's help to play down the impact of a report last summer by the government's Environmental Protection Agency (EPA), in which the US admitted for the first time that humans are contributing to global warming. "Thanks for calling and asking for our help," Ebell tells Cooney.

The email discusses possible tactics for playing down the report and getting rid of EPA officials, including its then head, Christine Whitman. "It seems to me that the folks at the EPA are the obvious fall guys and we would only hope that the fall guy (or gal) should be as high up as possible," Ebell wrote in the email. "Perhaps tomorrow we will call for Whitman to be fired," he added.

The CEI is suing another government climate research body that produced evidence for global warming. The revelation of the email's contents has prompted demands for an investigation to see if the White House and CEI are co-ordinating the legal attack.

"This email indicates a secret initiative by the administration to invite and orchestrate a lawsuit against itself seeking to discredit an official US government report on global warming dangers," said Richard Blumenthal, attorney general of Connecticut, who has written to the White House asking for an inquiry.

The allegation was denied by White House officials and the CEI. "It is absurd. We do not have a sweetheart relationship with the White House," said Chris Horner, a lawyer and senior fellow of CEI.

However, environmentalists say the email fits a pattern of collusion between the Bush administration and conservative groups funded by the oil industry, who lobby against efforts to control carbon dioxide emissions, the main cause of global warming.

When Bush first came to power he withdrew the US -- the world's biggest source of greenhouse gases -- from the Kyoto treaty, which requires nations to limit their emissions.

Both Bush and Vice President Dick Cheney are former oil executives; National Security Adviser Condoleezza Rice was a director of the oil firm Chevron, and Commerce Secretary Donald Evans once headed an oil and gas exploration company.

"It all fits together," said Kert Davies of Greenpeace. "It shows that there is an effort to undermine good science. It all just smells like the oil industry. They are doing everything to allow the US to remain the world's biggest polluter."

Other confidential documents obtained by The Observer detail White House efforts to suppress research that shows the world's climate is warming. A four-page internal EPA memo reveals that Bush's staff insisted on major amendments to the climate change section of an environmental survey of the US, published last June. One alteration indicated "that no further changes may be made."

The memo discusses ways of dealing with the White House editing, and warns that the section "no longer accurately represents scientific consensus on climate change."

Some of the changes include deleting a summary that stated: "Climate change has global consequences for human health and the environment." Sections on the ecological effects of global warming and its impact on human health were removed. So were several sentences calling for further research on climate change.

A temperature record covering 1,000 years was also deleted, prompting the EPA memo to note: "Emphasis is given to a recent, limited analysis [which] supports the administration's favoured message."

White House officials added numerous qualifying words such as "potentially" and "may", leading the EPA to complain: "Uncertainty is inserted where there is essentially none."

The paper then analyses what the EPA should do about the amendments and whether they should be published at all. The options range from accepting the alterations to trying to discuss them with the White House.

When the report was finally published, however, the EPA had removed the entire global warming section to avoid including information that was not scientifically credible.

Former EPA climate policy adviser Jeremy Symons said morale at the agency had been devastated by the administration's tactics. He painted a picture of scientists afraid to conduct research for fear of angering their White House paymasters. "They do good research," he said. "But they feel that they have a boss who does not want them to do it. And if they do it right, then they will get hit or their work will be buried."

Symons left the EPA in April 2001 and now works for the National Wildlife Federation as head of its climate change programme. The Bush administration's attitude was clear from the beginning, he said, and a lot of people were working to ensure that the President did nothing to address global warming.
Propaganda well catapulted, I'd say. It's a government of the oil, by the oil, and for the oil. Actions have consequences -- like allowing oil executives to fill our highest govermental offices.
And you still wonder why you're paying record gas prices -- prices that will continue to rise and rise -- just like water levels all around the world.
Chicken Little, that environmental wacko, just needed a better editor to be lobotomized into keeping quiet. Now, he's just another Lucky Duckie -- with glazed eyes and floating through the haze of a news blackout -- perspiring more than usual while pumping his paycheck into an SUV.