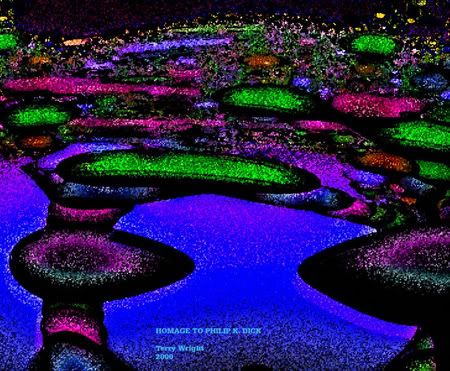 Homage to Philip K. Dick (2000)
From that surreal universe in itself Wikipedia:
Foreshadowing the cyberpunk sub-genre, Dick brought the anomic world of California to many of his works, exploring sociological and political themes in his early novels and stories while his later work tackled drugs and theology, drawing upon his own life experiences in novels like A Scanner Darkly and VALIS. Alternate universes and simulacra were common plot devices, with fictional worlds inhabited by common working people, rather than galactic elites. "There are no heroics in Dick's books," Ursula K. Le Guin wrote, "but there are heroes. One is reminded of Dickens: what counts is the honesty, constancy, kindness and patience of ordinary people."

[...]

Dick's stories often become seemingly surreal fantasies, with characters discovering that their everyday world is an illusion, emanating either from external entities or from the vicissitudes of an unreliable narrator. "All of his work starts with the basic assumption that there cannot be one, single, objective reality," Charles Platt writes. "Everything is a matter of perception. The ground is liable to shift under your feet. A protagonist may find himself living out another person's dream, or he may enter a drug-induced state that actually makes better sense than the real world, or he may cross into a different universe completely."

[...]

As time went on, he became increasingly paranoid, imagining plots against him perpetrated by the KGB or FBI, who he believed were constantly laying traps for him. At one point he alleged that they had been responsible for a burglary at his house in which various documents had been stolen. He later stated that he might very well have committed the burglary himself, and then forgotten he had done so. This is echoed especially in the character of Bob Arctor/Agent Fred in A Scanner Darkly.

Dick himself speculated as to whether or not he may have suffered from schizophrenia, and themes of mental illness permeated his work, especially that of Jack Bohlen, an "ex-schizophrenic" in the 1964 novel, Martian Time-Slip. It was also prominently featured in his novel Clans of the Alphane Moon, which centered on an entire society populated from the descendants of a lunatic asylum. The topic of mental illness was of constant interest to Dick, and in 1965 he wrote an essay entitled "Schizophrenia and the Book of Changes."

[...]

The most famous film adaptation is Ridley Scott's classic movie Blade Runner (based on Dick's 1968 novel Do Androids Dream of Electric Sheep?). Dick was apprehensive about how his story would be adapted for the film; he refused to do a novelization of the film and he was critical of it and its director, Ridley Scott, during its production. When given an opportunity to see some of the special effects sequences of Los Angeles 2019, Dick was amazed that the environment was "exactly as how I'd imagined it!" Following the screening, Dick and Scott had a frank but cordial discussion of Blade Runner's themes and characters, and although they had differing views, Dick fully backed the film from then on. Dick died from a stroke less than four months before the release of the film.
I still remember the first time I read Philip K. Dick. I picked up a copy of Ubik just after I turned 20, and the phrase blow your mind suddenly made sense to me.