Technocrat (2001)
Hangman, hangman, hold it a little while,
I think I see my friends coming, riding a many mile
--"Gallows Pole", Led Zeppelin
I mean, [Saddam Hussein] is a torturer, a murderer, they had rape rooms. This is a disgusting tyrant who deserves justice, the ultimate justice.
George W. Bush, 12-13-03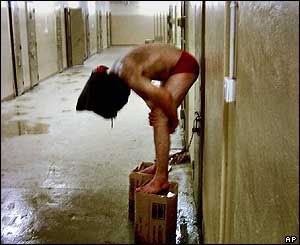 Torturer...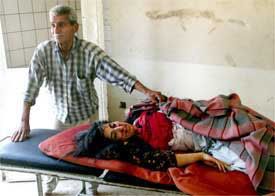 Murderer...
One big joke(r)...

And as for rape rooms....
From Editor&Publisher:

A federal judge ruled today [10-23-06] that graphic pictures of detainee abuse at Iraq's Abu Ghraib prison must be released over government claims that they could damage America's image. Last year a Republican senator conceded that they contained scenes of "rape and murder" and Secretary of Defense Donald Rumsfeld said they included acts that were "blatantly sadistic."

[...]

What is shown on the photographs and videos from Abu Ghraib prison that the Pentagon has blocked from release? One clue: Defense Secretary Donald Rumsfeld told Congress last year, after viewing a large cache of unreleased images, "I mean, I looked at them last night, and they're hard to believe." They show acts "that can only be described as blatantly sadistic, cruel and inhumane," he added.

A Republican Senator suggested the same day they contained scenes of "rape and murder." Rumsfeld then commented, "If these are released to the public, obviously it's going to make matters worse."

The photos were among thousands turned over by the key "whistleblower" in the scandal, Specialist Joseph M. Darby. Just a few that were released to the press sparked the Abu Ghraib abuse scandal last year, and the video images are said to be even more shocking.
The verdict's in...
Meet the new boss...
Same as the old technocrat...
This Tuesday, will America get fooled again? Or have we -- finally -- had enough?
~/~
Tags:
photoblog-posts
,
photoblog
,
saddam hussein
,
torture
,
bush
,
election 2006