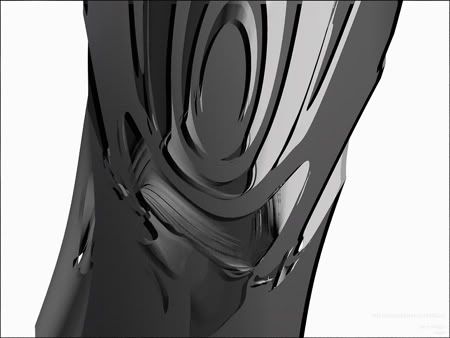 Car Salesman (2008)
[Click on the image above to see the view with binoculars.]

Savvy customers with sticker shock
want more free pens. Negotiate as you fog over,
forget his interests are not yours. Discuss discounted
swindling in a last jail interview. So go off script. Engage in sleazy
reset. Seek penance when that test drive turns a murderous
corner. Dealer with it or grow a conscience.

What does it take to trade? A personality? A good golf vibe?
An actual selling price? Tap down any twinge of coy.
Let pigeons sweat as you harbor homicide passing
blank notebooks to the boss. Suck it up sucker.
You nada charisma. You zero commission.
Motivational speaking sells more lemons for ex-cons.
~/~
Image initially made with QuaSZ. Post-processed until it just couldn't go any lower because it's done all it could do. Text is an original "Google poem" collaged together from search strings of car salesman.
Tags: fractal, fractals, fractal art, fractal blog, digital art, found poetry, google poem, view with binoculars, car salesman, preowned blogging, cruelanimal, blog with a view