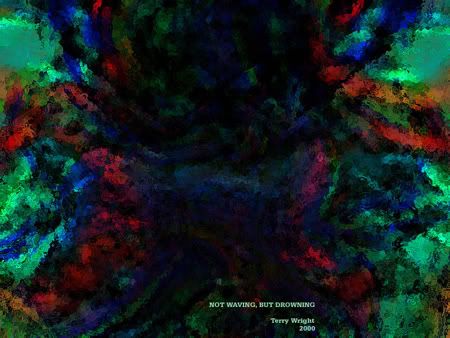 Not Waving, But Drowning (2000)
Karl Rove was skulking around my stomping grounds yesterday. And here's what he had to say about the Great Prosecutor Purge, courtesy of TPM Muckraker:
Look, by law and by Constitution (sic), these attorneys serve at the pleasure of the president and traditionally are given a four year term. And Clinton, when he came in, replaced all 93 U.S. attorneys. When we came in, we ultimately replace most all 93 U.S. attorneys – there are some still left from the Clinton era in place. We have appointed a total of I think128 U.S. attorneys -- that is to say the original 93, plus replaced some, some have served 4 years, some served less, most have served more. Clinton did 123. I mean, this is normal and ordinary.

[...]

But this is the right of any president to appoint people to these offices. They serve at the pleasure of the president. And my view this is… unfortunately a very big attempt by some in the Congress to make a political stink about it. And the question is did they have the same reaction if they were in Congress in the 90's, or did they have the same reaction if they were in the 80's. Because every president comes in, appoints United States attorneys and then makes changes over the course of their time.
Like most BushCo utterances, there's more catapulted propaganda than fact. Bush's Brain, true to form, is being typically obsequious. At the risk of making a political stink, let's point out why Rove's bullshit smells:
All presidents clean house, but not using BushCo's methods and rationales.
Clinton's mass firings were much less ominous. His actions applied generally to all 93 of the U.S. Attorneys he downsized. No one was spared. No one's conduct was called into question. There was no general application with BushCo. Only certain attorneys were targeted. The reputations of those attorneys were besmirched by termination for "poor job performance." Complaints from partisan congressional Republicans (Pete Domenici, Heather Wilson) were allegedly a factor for the decisions. Here in Arkansas, Bud Cummings was replaced with Rove aide Tim Griffin who helped wipe out voting rights for 70,000 citizens before the 2004 election.
Clinton's appointments faced Senate confirmations. BushCo's come courtesy of Patriot Act loopholes allowing Alberto "Torquemada" Gonzales to appoint federal prosecutors indefinitely without Senate confirmation.
PF, a Washington lawyer, adds this over at TPMMuckraker:

Taking things sequentially in his statement, the notion that "U.S. Attorneys serve at the pleasure of the president" is true, but irrelevant in this context. Congress is not investigation whether the President has the legal authority to fire these USAs -- it is investigating what factors the President permits to influence his judgment. It is one thing to say "I am legally entitled to do X;" it is quite another to expect that you can do X for nefarious reasons and expect to go unchallenged in the political arena by a coordinate branch of government. Given the supine nature of Congress over the past six years, though, I can understand why Rove believed "because the President says so" is a reasonable excuse.

Rove's reliance on "the president can do it" to try to shut down debate, is specious for another reason. The President, for example, has unfettered rights to pardon people. If President Bush started selling pardons, under Rove's logic, Congress would have no right or reason to investigate what the President had done. Many Republicans certainly took a different tack with respect to investigating President Clinton's perhaps-poorly-considered pardon of Marc Rich.
He's right. Bush is entitled to do many things -- but should he never face scrutiny for his actions? Didn't another not-a-crook president once observe: "When the president does it, that means it's not illegal."
Paul Krugman sees through Rove's nonsense and writes today that
In fact, it's becoming clear that the politicization of the Justice Department was a key component of the Bush administration's attempt to create a permanent Republican lock on power.

[...]

For now, the nation's focus is on the eight federal prosecutors fired by Attorney General Alberto Gonzales. In January, Mr. Gonzales told the Senate Judiciary Committee, under oath, that he "would never, ever make a change in a United States attorney for political reasons." But it's already clear that he did indeed dismiss all eight prosecutors for political reasons — some because they wouldn't use their offices to provide electoral help to the G.O.P., and the others probably because they refused to soft-pedal investigations of corrupt Republicans.

In the last few days we've also learned that Republican members of Congress called prosecutors to pressure them on politically charged cases, even though doing so seems unethical and possibly illegal.

The bigger scandal, however, almost surely involves prosecutors still in office. The Gonzales Eight were fired because they wouldn't go along with the Bush administration's politicization of justice. But statistical evidence suggests that many other prosecutors decided to protect their jobs or further their careers by doing what the administration wanted them to do: harass Democrats while turning a blind eye to Republican malfeasance.
Will someone break it to Rove that strong-arming federal attorneys to target opponents and shelter loyalists or face reprisals is not "normal and ordinary?" It's dictatorial -- and shows clearly the tactics of politicians who are not waving -- but drowning.
~/~
Technorati Tags: photoblog, fractal, fractal art, digital art, computer art, art, bushco, prosecutor purge