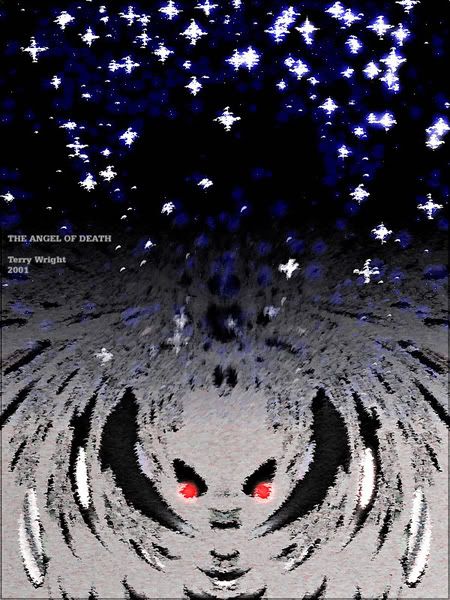 The Angel of Death (2001)
'Twas early in the morning at four.
When death knocked upon a bedroom door.
"Who is there?" the sleeping one cried.
"I'm Izrael, let me inside."
--G.H.E. Vanker, "Conversation with the Angel"
From SignOnSanDiego.com:

The top U.S. envoy to Iraq, Zalmay Khalilzad, was quoted in the Los Angeles Times on Tuesday saying the U.S.-led invasion of Iraq in 2003 that ousted President Saddam Hussein opened a "Pandora's box" of ethnic and sectarian tensions. Pointing to the disputes over forming a national unity government and the sectarian violence, he said the "potential is there" for a full-blown Iraqi civil war.

A new Washington Post-ABC News poll found that 80 percent of Americans believe that recent sectarian violence makes civil war in Iraq likely and more than a third thought it was "very likely." In addition, 52 percent of those surveyed said the United States should begin pulling out troops.

Asked whether a civil war was possible, Army Gen. George Casey, the top U.S. commander in Iraq, told reporters on Friday it was unlikely but, "Anything can happen."
Anything can happen? Anything -- except peace -- and rewinding the reality video of the entire Iraq recording of pointless destruction and needless death.
Meanwhile, according to Media Matters, back at Rancho Pravda Fox News:

A segment about escalating sectarian violence in Iraq on the February 23 edition of Fox News' Your World with Neil Cavuto featured onscreen captions that read: " 'Upside' To Civil War?" and "All-Out Civil War in Iraq: Could It Be a Good Thing?"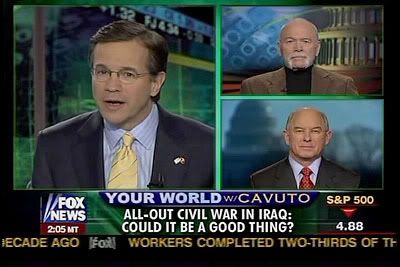 Next on Fox: "The Silver Lining of Nuclear Annihilation"