Bring Me the Head of Fido (2001)

From Dog Haiku:
Today I sniffed
Many dog behinds -- I celebrate
By kissing your face.

I sound the alarm!
Paper boy -- come to kill us all --
Look! Look! Look! Look! Look!

I hate my choke chain --
Look, world, they strangle me!
Ack Ack Ack Ack Ack!

Dig under fence -- why?
Because it's there. Because it's
There. Because it's there.

My human is home!
I am so ecstatic I have
Made a puddle.
From Cat Haiku:
You never feed me.
Perhaps I'll sleep on your face.
That will show you.

The rule for today.
Touch my tail, I shred your hand.
New rule tomorrow.

Grace personified.
I leap into the window.
I meant to do that.

Terrible battle.
I fought for hours. Come and see!
What's a "term paper"?

Wanna go outside.
Oh, no! Help! I got outside!
Let me back inside!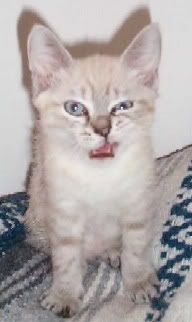 What are you looking at, asshole?
[Photograph from My Cat Hates You]
From Salon -- "Cat People vs. Dog People" by Laura Miller:
Dog people profess to be baffled by the cat person's affection for an animal that provides so little active amusement: Cats will not frolic with you in the surf or fetch sticks or point with their noses at a bird for you to shoot. Because cats can't be trained to do the same sorts of tricks that dogs do, they are considered to be less intelligent, and because they are not by nature as social as dogs, they are seen as comparatively aloof or indifferent to humans. Dog people think cat people are suckers for doting on sneaky, selfish creatures that only pretend to like people in order to get food and other goodies and that will never, say, jump into a raging, flood-swollen river to rescue a small child at the risk of their own lives, as the faithful hound supposedly will.

Cat people heap contempt on dog people for actually thinking a dog's devotion counts for much. A dog's love for its owner is, cat people say, entirely instinctual, indiscriminate and often unearned by its object; you are not loved for yourself but for the position you assume in the dog's life -- anyone else would do as well. Therefore, dog owners must be so desperate for love as to be nearly undeserving of it. The willingness of dogs to learn tricks is a result not of their intelligence but of their dopey eagerness to please. That cats can't be bothered to sit or heel on command is, their partisans insist, a sign that they are more clever by half. Cats are also self-cleaning, slobber-free, handy when you've got a mouse problem and don't have to be walked.
From Dog Diary vs. Cat Diary:
Excerpts from a Dog's Diary:


8:00 am - OH BOY! DOG FOOD! MY FAVORITE!

9:30 am - OH BOY! A CAR RIDE! MY FAVORITE!


9:40 am - OH BOY! A WALK! MY FAVORITE!

10:30 am - OH BOY! A CAR RIDE! MY FAVORITE!


11:30 am - OH BOY! DOG FOOD! MY FAVORITE!

12:00 noon - OH BOY! THE KIDS! MY FAVORITE!

1:00 PM - OH BOY! THE YARD! MY FAVORITE!

1:30 PM - ooooooo. bath. bummer.

4:00 PM - OH BOY! THE KIDS! MY FAVORITE!

Excerpts from a Cat's Diary:


DAY 752 - My captors continue to taunt me with bizarre little dangling objects. They dine lavishly on fresh meat, while I am forced to eat dry cereal. The only thing that keeps me going is the hope of escape, and the mild satisfaction I get from ruining the occasional piece of furniture. Tomorrow I may eat another house plant.


DAY 761 - Today my attempt to kill my captors by weaving around their feet while they were walking almost succeeded, must try this at the top of the stairs. In an attempt to disgust and repulse these vile oppressors, I once again induced myself to vomit on their favorite chair...must try this on their bed.


DAY 765 - Decapitated a mouse and brought them the headless body, in attempt to make them aware of what I am capable of, and to try to strike fear into their hearts. They only cooed and condescended about what a good little cat I was...Hmmm. Not working according to plan.

DAY 768 - I am finally aware of how sadistic they are. For no good reason I was chosen for the water torture. This time however it included a burning foamy chemical called "shampoo." What sick minds could invent such a liquid? My only consolation is the piece of thumb still stuck between my teeth.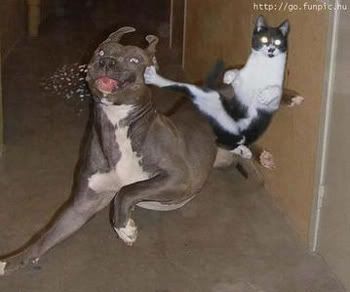 "It was not my intention to do this in front of you. For that I'm sorry. But you can take my word for it, your mother had it coming. When you grow up, if you still feel raw about it, I'll be waiting."

I know. Some of the annotations in today's entry have long been circulated on the Net. I still found myself chuckling, though.
I'm a cat person. Maybe I prefer cool disdain to slobbering loyalty. Or maybe it's the fact that cats paint
Cat Painting: The Balloons
[from PAW PRINTZ]
but the cat cult in today's image may have been partaking of the sacramental catnip a little too often...